Topic clusters are revolutionizing SEO and content marketing strategies all over the internet. Their goal is to please Google algorithms while providing a seamless experience for the target audience.
If you are struggling to achieve decent rankings for a seemingly valuable content-rich page, the problem could be hiding in the website architecture.
The modern content strategy requires accommodating topic clusters to add value, satisfy Google, and generate traffic with high conversion potential.
Let's take a closer look at what topic clusters are and why they warrant your attention.
What Is a Topic Cluster?
Topic clusters are targeted clusters of relevant content that cover a specific topic in depth. Key cluster components are:
The pillar page — the content on this page discusses the core topic and covers various user queries. It provides sufficient value for visitors to stay on the page and follow internal links to the related content pieces.
Supporting pages — these pages go more in-depth into topics mentioned on the pillar page. They have a narrower focus on specific user queries.
Internal links — links from the pillar page to the supporting pages help them gain authority. Meanwhile, links from supporting pages to the pillar page show the search engine how vital that core page is.
An example of a topic cluster would be:
Pillar page: "A Simple Guide to SEO."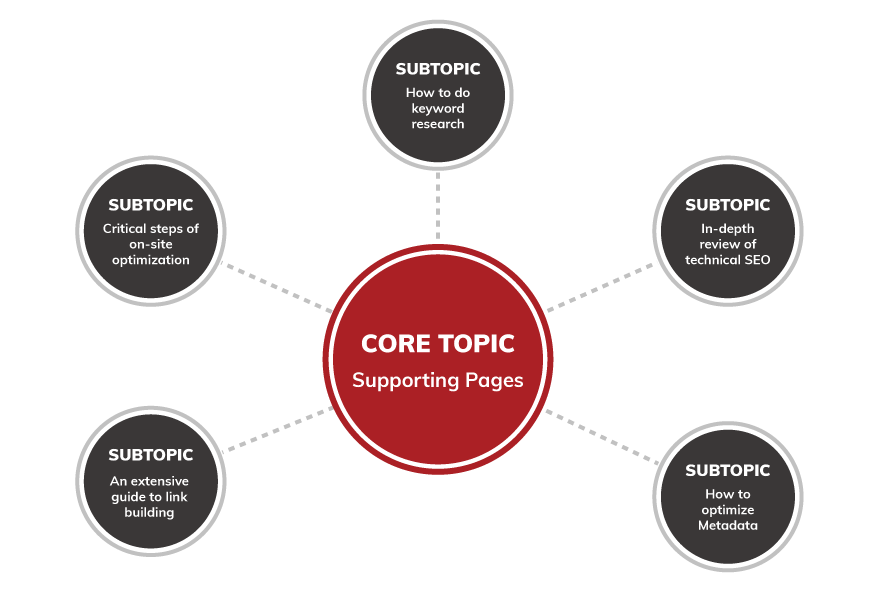 While the pillar page would discuss all the above topics to an extent, the supporting page dives more in-depth into each supporting page or "subtopic."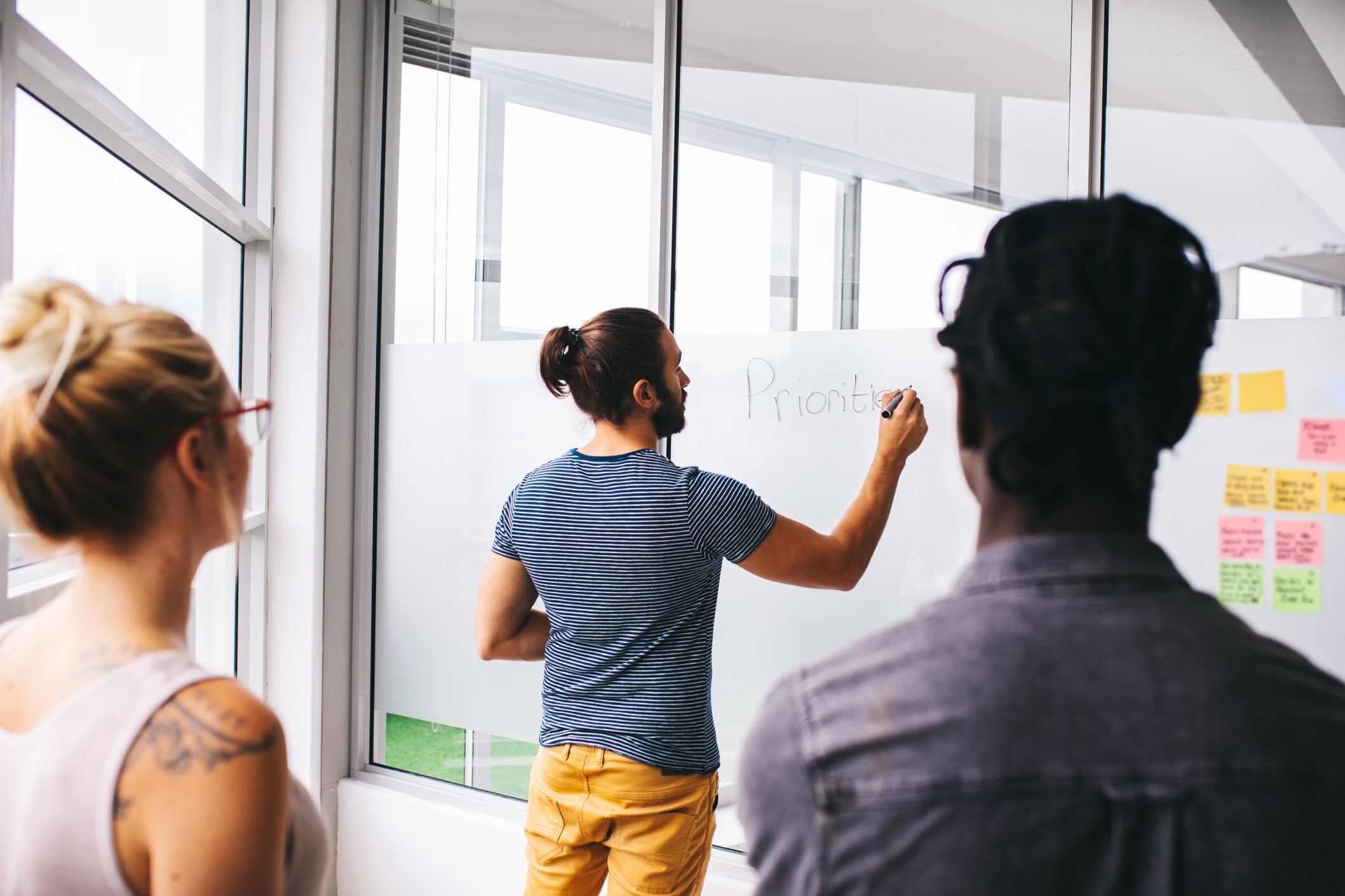 A searcher who comes to your page looking for quick SEO tips is likely to stick around to learn more by visiting supporting pages.
Why Are Topic Clusters an Integral Part of Content Marketing?
For many years,  content marketing teams have relied on keywords and key phrases alone to show search engines the topic of a web page.
When a company has several webpages that cover similar topics, they end up competing with each other for the top spots of the SERP (Search Engine Results Pages).
To work around this issue, Google changed its algorithms to prioritize websites with cluster content structure. By implementing the topic cluster approach, you can:
Build your authority: creating multiple pieces of content that revolve around one topic demonstrates your site's power and trustworthiness on a particular subject. It's better to focus content around a single target topic than create disconnected articles around specific keywords.
Boost internal linking: by linking pillar and supporting pages, you show your website's authority to the search engines. The more links point to the pillar page, the higher it will rank on SERP.
Keep users on your website: a properly structured topic cluster keeps visitors on your website longer. Remember, Google uses dwell time when determining website rankings. Meanwhile, you get extra opportunities to push the visitor through the marketing funnel (or up a campfire).
Generate leads:  comprehensive and valuable content helps build organic traffic around authoritative pages. Clusters generate top of the funnel leads by exposing many people to a specific subject and surrounding topics.
Meet searcher's intent: grouping your content in clusters improves the visitor's experience on your website. You can cover a variety of essential questions and address all the necessary pain points.
Personalize user experience: when you build an article around a general topic (let's go back to the SEO Guide example), you attract a big target audience. Some may already know a lot about keyword searches but struggle to master link building or vice versa. By creating a cluster, you address each visitor's pain point without forcing the rest to sift through unnecessary information.
In short, websites that feature topic clusters perform better than websites with random keyword-focus content pieces. Besides improving website rankings, you are building authority and brand awareness.
Get the Template for Topic
Cluster Success
How Should you Build a Topic Cluster?
Creating topic clusters for your website isn't difficult. You most likely already have some pillar pages and many supporting pages to use. Group your existing content by topics and add pillar or supporting pages where necessary.
If you are starting a topic cluster from scratch, take the following steps.
1. Choose a topic
Figure out the topic you'd like to prove your expertise. The topic should be the cornerstone of your business and show why you are better than the competition.
Keep in mind your clients' needs and pain points. The topic should be broad enough to allow writing several sub-pieces.
Make a list of subtopics that go deeper into the subject.
2. Identify Keywords
The cluster content revolves around the same subject and similar keywords. You need to identify a core keyword for the pillar page content and several related terms for the supporting articles.
Pay attention to the keyword difficulty and search volume. A broad keyword with medium difficulty and high search volume for a pillar article can complement low search volume keywords for sub-articles.
3. Create Content
Now that you know which topics and keywords to work with, you can start writing the content. Remember that the pillar content should be generalized. You can go deep into the subject when writing supporting articles.
The pillar page could be similar to an outline. It should contain valuable, skimmable content, and a catchy introduction.
Pro tip: Consider creating supporting content first to avoid in-depth repetition on the pillar page.
Why Use HubSpot to Manage Topic Clusters?
HubSpot offers a comprehensive and easy-to-use topic cluster SEO tool to help you build and manage topic clusters. Once you have a list of initial pillar topics, you can add them to HubSpot and:
Get recommendations about subtopics.
See how your existing pages fit into the topic cluster strategy.
Find gaps in the interlinking structure.
And more.
HubSpot can help you get started with the topic cluster strategy and measure its progress.
Streamlining Your Content Strategy with Topic Clusters
The topic cluster content approach has been around for a while. However, only a small percentage of companies take full advantage of it. Besides improving your rankings, providing value to your clients, and building brand awareness, using topic clusters can help you gain a competitive advantage.
The ever-changing Google algorithms are stressing the impeccable user experience. Implementing topic clusters is a huge step toward improving it.