B2B marketing is not easy. You work in a competitive, complex industry, and your customers demand informative and persuasive information. Because so many B2B deals are viewed as "partnerships," as opposed to pure "transactions," marketers and salespeople are under immense pressure to develop trust and relationships with target customers long before they sign a deal.
The Solution to Content Planning
The problem is that 99 percent of marketing cannot hone all departments' expertise and develop strong content on their own. And the reality is prodding and pleading your company's subject matter experts to sit down and write a blog article can feel like pulling teeth. You see now why only 42 percent of B2B companies claim to be proficient at content marketing.
How do you create content that taps into your company's immense technical know-how but still reads well and is attractive to search engines?
The answer is simple. All it takes is a conversation and some teamwork.
This demo takes you behind the curtain of the exact template we use for all of our clients to derive expertise from their team members. We use these conversations to create different content pieces that we leverage and repurpose for powerful content marketing.
Don't Be Afraid. Our Template is Here!
We'll level with you — content marketing is challenging. Our team experienced some trial and error before we found a streamlined way to create content. Instead of Googling how to hire someon to create a content creation plan you can now take matters into your own hands. If you're committed to consistent content production, a template and technique like the one outlined above are critical to your success.
Want to plan a free content outline with one of our Content Strategists? Book a free consultation today.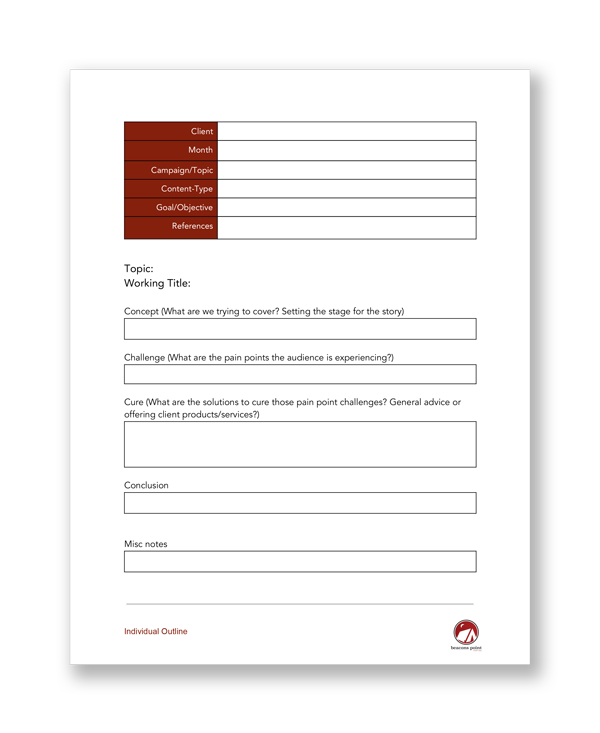 Download your Content Outline Template Here
Staying organized during the content planning process is important, you want to keep track of all of your content so that in the future you're able to make edits that can improve your content. We use this template every time we write a new blog, this is the first phase. As we said before, this template has been tested, and we have enjoyed the results.
Something else that you may not think about until you're saving your work is to make sure that you have the proper naming conventions for your work. Creating content on this outline template is great, but if you go to look for it down the road, or someone else on your team does how do you know they will be able to find it? That's where that handy naming convention worksheet comes into play.
Summing it Up
Content planning is not an easy task, you have possibly figure out how to deal with difficult subject matter experts, write on a topic that's going to intrigue your audience, organize your documents, get approval from higher up, and the list goes on. Let us help you make your life a little easier but using this content outline template. If you're not sure how to use the template after watching the video you can always reach out for assistance. Happy content creating.