In our digital world, webinars have become one of the most efficient ways for companies to further their brand. These low-CTA forums enable companies to position themselves as industry thought-leaders, collect leads, and move prospective clients further down the funnel — but they're only as effective as the engagement they create.
If companies want to make the most of these online summits, they need to evaluate how they plan to maximize webinar attendance and foster as much participation as possible. That means thinking through broader goals like timing, planning, and deck layout (strategy) as well as specific means of implementation like deliverables, recordings, and repurposing content (tactics). We'll take a look at both in this article, and show you where to go after your webinar is complete.

Improving Webinar Attendance: Getting Started
A lot goes into pulling off a successful webinar. Structuring the layout (or deck) of your webinar, preparing the deliverables, and repurposing content are just a few stages you'll need to think through — and that's just the content creation phase. That's why the general rule is that you should begin planning your webinar roughly three months before it's set to launch. We'll discuss some ways to shorten this timeline later on, but stick with a 90-day window to give yourself plenty of time, and possibly more if you're hosting your first one.
Goals and Promotions
Once you've set a timeline, you need to set expectations for what success will look like, and begin the webinar promotion phase as soon as possible. A few goals you should set include:
The purpose for hosting (displaying yourself as an industry thought-leader, driving website traffic, lead generation, etc.)
Intended result (signing up for a newsletter, increased traffic, product education, etc.)
Number of registrants (how to get attendees)
Number of attendants (the average webinar attendance is about 50% of the registered list)
Desired time of registration
Establishing these goals will help you decide which campaigns will be most successful. A multichannel approach will likely be the most effective, but some webinar promotion campaigns are:
Advertisements
Social media posts
Adding pop-ups to your homepage
Landing page creation
Chatbot bubbles
Company-wide chats
Word of mouth
Much more
Awareness is key when boosting webinar attendance, so whichever channel you choose, begin advertising as soon as your deck and content are complete — typically 4–6 weeks before launch.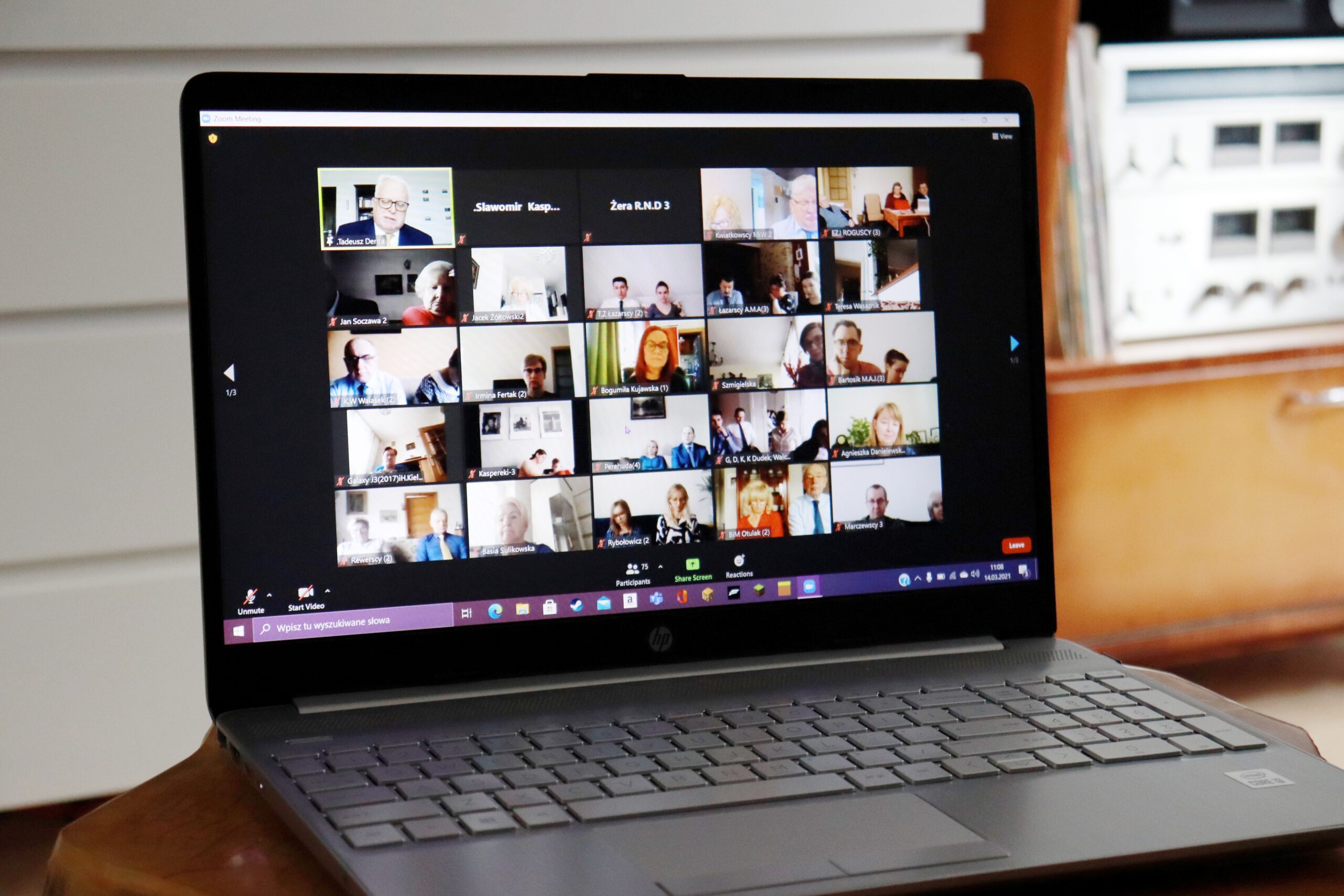 5 Tips to Make Your Webinar Pop
With the long-term strategies in place, you can begin to think about how to design your webinar so that it maximizes engagement.  Here are a few tips that can make your webinar pop.
1. Be Relevant
As with any marketing approach, the first step in reaching your base is understanding their needs. Do you know your audience? How will your webinar relieve their pain points and connect with what matters to them? Knowing how your audience likes to communicate will also help you decide what format works best, so make sure you tailor your webinar to your base so that its content resonates with them.
2. Grab Their Attention
Whether it's a blog post or newsletter, a catchy intro boosts engagement in any marketing channel — and the same is true for webinars. The first thing viewers will notice is the title of your webinar, so craft one that's both intriguing and informative, telling them what the general topic you'll cover will be while piquing their interest in the specifics. Graphics like banners, logos, and sound effects also catch the viewer's attention, so be sure to accompany your title with an aesthetically pleasing design that makes them eager to find out more. During the webinar, you want to continue to engage the crowd. So how do you welcome the audience to a webinar? Start by asking them something fun, our VP of Sales & Marketing loves to ask "What's your favorite taco?" it works every time. People love discussing their interests, break the ice by asking fun questions. This will help you and the crowd loosen up!
3. Be Specific
An engaging intro may pique their interest, but if you leave them in the dark about the details they'll just move on to the next message. Your campaigns should clarify the exact material you plan to present so that registrants know what to expect and how it relates to them.
There are several ways to get specific about your topic while increasing viewer interest. One way is to follow your title with subheaders and bullet points that list the categories you'll be discussing, or you can give examples or case studies to illustrate your message. For instance, a webinar featuring a software platform may have specific headers or bullets that mention all the capabilities that your tech provides, and will prove how it can meet the client's needs. Whatever method you choose, be sure to tie each point back to how it will offer value to your audience and meet their needs.
When you list your webinar specifics, you're making a promise to the viewer that certain material will be discussed. You should be able to keep that promise, so only present on topics you have ample knowledge about. Otherwise, viewers may walk away feeling disappointed or misled, and your brand image could be tarnished.
4. Big Personalities
Some webinars feature multiple industry experts or even entertaining personalities that have a massive following. If you have the luxury of landing an influencer like this, leverage it to boost your webinar attendance by letting viewers know their favorite personality will be there. If you're hosting a webinar with a forum or panel format, promote the event by touting the wealth of knowledge that's gathered at the table.
5. To Record or Not to Record?
It's common for webinars to be recorded and sent out to registrants after they're over so that they can access the material later on, but sometimes this can backfire. Although it does create an opportunity for further engagement down the road, some registrants sign up for webinars with no intention of ever showing up, knowing that they'll receive the content in their inbox.
To decide if the trade-off is worthwhile, it's again important to evaluate your goals. If you just need registrants for a lead-gen campaign it may be ok to risk losing a few attendants by sending your recording afterward, but if you want to maximize your webinar attendance, consider only sending it out to registrants that attend. Promoting the recording as an asset that only attendants receive can also create a VIP feel, which can further improve attendance.
Whichever approach you take, it's still a good idea to record your webinars for your own use, even if you don't send them to attendants. You can use the recordings to repurpose your content by distilling it into smaller deliverables like articles or videos, which can be used to follow up or find new leads altogether — though you'll want to let your attendants know they're being recorded.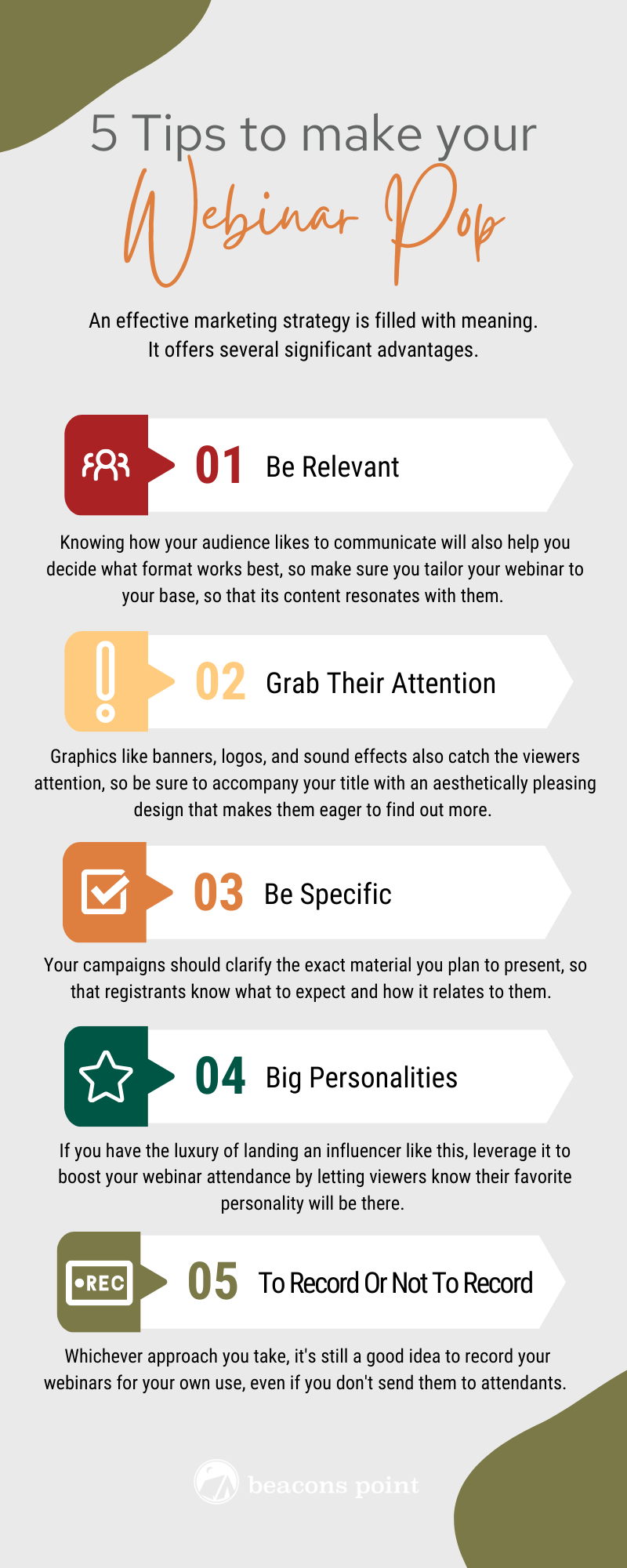 When Do You Start Promoting Your Webinar?
Timing is critical in webinar hosting, and creating a notification timeline can help you increase attendance. If you notify your base two or three months out, they may not realize that they already have plans or may end up making plans at the time your webinar is held. Failure to give them enough notice can also lower webinar attendance rates, as viewers will already have filled their schedules.
To strike a proper balance between the two, aim for a 4–6 week awareness timeline, giving periodic reminders to keep the event in your viewers' minds. Also, consider the time of day that your webinar is held, and if it would cut into the daily lives of the viewers you hope to attract.
Types of Webinars
Deciding on a format is another prerequisite that will shape your webinar deck. There are many webinar formats to choose from, all of which have their own pros and cons. A few of them are:
"Ask Me Anything" (AMA). This format can increase webinar engagement as hosts answer whatever questions the audience throws their way, but the greater spontaneity can lead to an uncontrollable environment, and some questions may catch you off guard. You'll need to be very prepared.
Series webinars. These can link one event to another and are useful for topics that can be broken down into a series of subtopics. They can also deepen the relationship between presenters and repeat attendants, creating opportunities for engagement.
Panels or forums. Gathering a host of experts to share their insights on a topic can be very informative, but if the layout isn't succinct or engaging enough, some viewers may check out.
Debates. Both webinar attendance and engagement rates can go up when two experts debate. Let them take opposing sides and show the strengths and weaknesses of each, and viewers' attention will be held longer, and all the information can still be delivered.
Fireside chats. When done correctly, fireside chats can make viewers feel right at home as they glean knowledge from the host. Done incorrectly, they can bore viewers by conveying the impression that the host is just showcasing his own topic knowledge.
A/B webinars. In a more organized variant of AMAs, hosts can present the audience with a series of options, and poll them on what they'd like to discuss. The majority decides what the topic of the webinar will be, but that requires that your deck be flexible enough to address all possible options.
The format you choose should be based on how your audience prefers to communicate, so knowing your viewers is essential here too.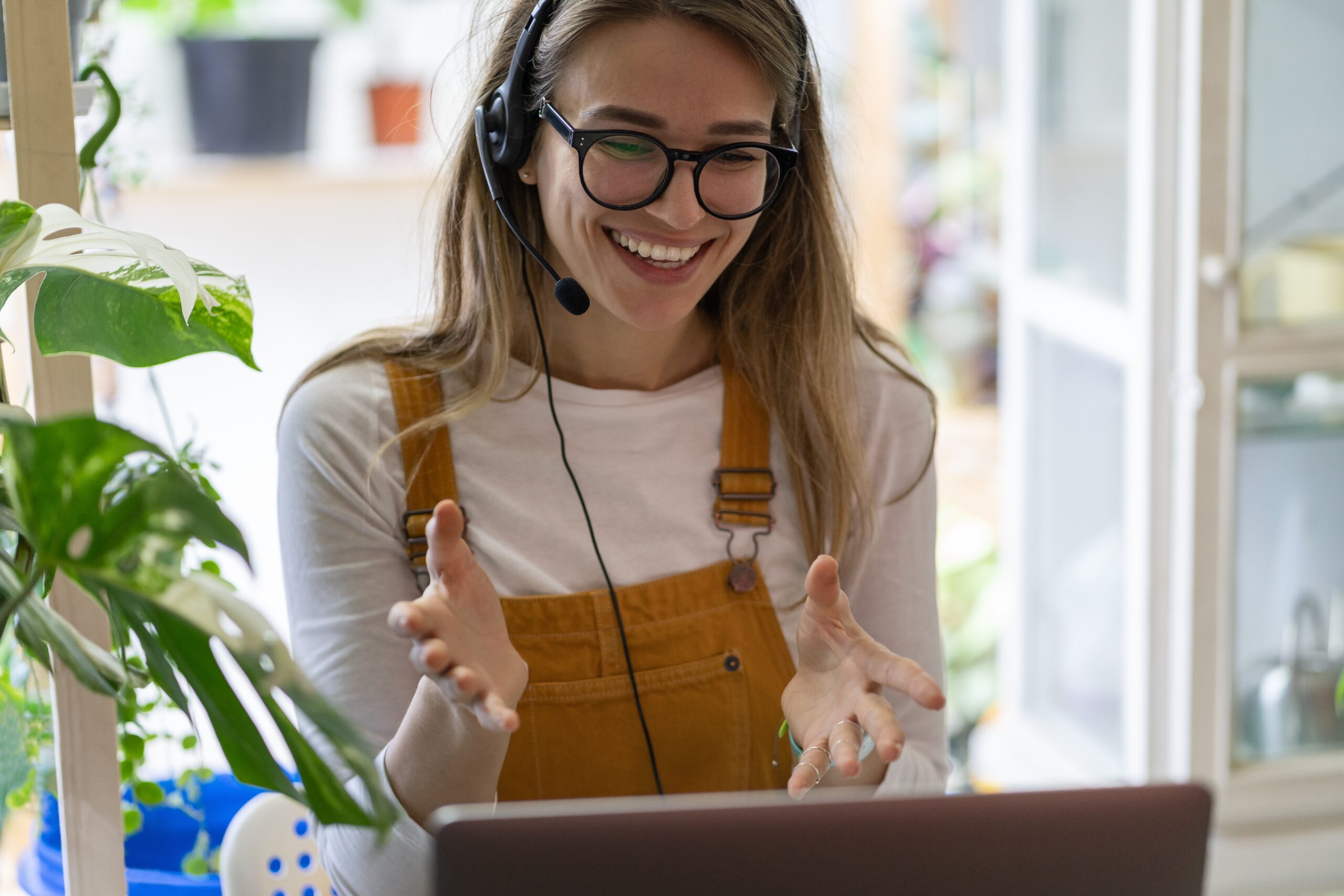 Creating a Webinar Strategy That's Right For You
The practical aspects of creating a webinar can be just as daunting as casting its vision and having a strategy can help you navigate the bumps along the road. The list is not exhaustive, but some points to help you form your webinar strategy might be:
Is your topic one that you know people want to learn more about?
Where will you create your outline?
What will you use to create a deck?
Who will create the deck?
Does your deck need any prerecorded video or statistics?
Have you created workflows to help you deliver the promotional items that your viewers will receive?
How can your content be repurposed? Can it be turned into a blog post? A podcast? A series? Repurposing content can save you time, energy, and money.
How long will your webinar be? An hour gives time for redirection and questions and is usually a safe bet.
As you walk through your webinar, don't be afraid of missteps. Co-founder and chief revenue officer of Digital Reach Solutions Mandy Thompson advises new hosts not to make the perfect the enemy of the good and reminds prospective hosts that mistakes are bound to happen.
Don't Reinvent The Wheel
Hosting a webinar is hard enough, so there's no need to repeat the same work every time. Templates, software automation, and built-in CRM capabilities can all be used to help you create your deck faster, reducing the net time it takes to put a webinar together. Reuse the same assets, and you may be able to drive down the webinar timeline to as little as a month.
Tips For Hosting a Good Webinar
With the planning phases complete, you'll want some tactics that will help you deliver the most engaging presentation possible. A few tips are:
Use "ice breakers" to help the audience introduce themselves.
Thank repeat attendants for their loyalty and participation.
Keep your slides concise, and visually appealing without being cluttered.
Be punctual, and if possible, try to end early.
Don't be salesy; at this stage in the funnel, a brief CTA of your product is enough.
Don't be discouraged if you have fewer attendants than you hoped; a single added customer can be a tremendous asset.
Perhaps most importantly, view each mistake as an opportunity for improvement. Your webinar may not be perfect on the first try, but you'll get better and better with time!