Buyer personas form the base for much of your inbound marketing efforts. When used properly, they can help you hone your marketing messages to attract your ideal customers to your business.
Personas help create the context for your messaging to ensure you're delivering relevant content to engage with your ideal customers.
What Is a Buyer Persona?
A buyer persona is a semi-fictional representation of your ideal customer. Buyer personas are created by compiling real data from your existing customer base and additional market research to craft a representation of your high-value prospect.
Marketing teams typically create easy-to-recall names to give these personas an identity that makes them easy to remember and relate to. Naming your persona "Pete the Plumber" or "Mary the Marketer" helps you think about real-world attributes to help focus your marketing efforts.
Buyer personas may be part-fictional, but they also must incorporate real data to be valid.
Do you want to see how building an in-depth buyer persona plays a foundational role in marketing strategy? Read How Buyer Personas Drive Your Marketing Success.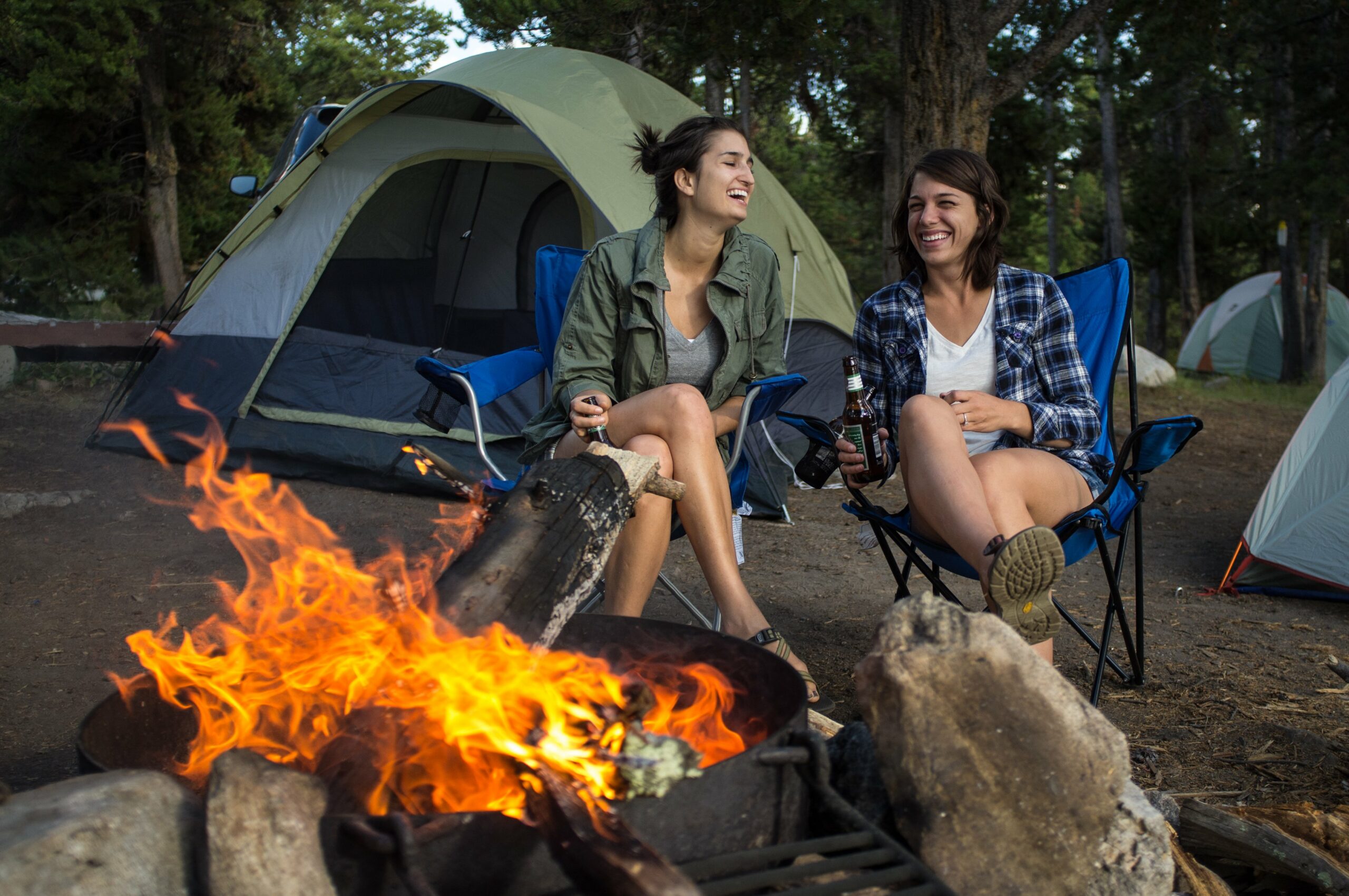 Why Should You Create Buyer Personas?
Why should you use a B2B buyer persona? A comprehensive buyer persona will help guide your resources, guide product development, and alignment across your organization. It paints a picture of the person you're trying to reach with your messaging so that you can frame it to be appealing to those personas.
Creating content with buyer personas in mind leads to higher engagement with visitors, leads, and customers that are most like your best customers. Creating in-depth, well-researched, data-heavy buyer personas is critical to developing an understanding of your customer.
Without this information, you risk launching a marketing strategy that won't connect.
What Information Should You Include in Your Persona Report?
When developing buyer personas, here are the keys things you want to include:
Customer demographics include age, gender, income, marital status, and family. These data points help you visualize the person behind the persona and help as you plan campaigns.
Behavior patterns and habits
Motivations
Challenge and goals
What values do they assign to brand choices?
You need a firm understanding of the problems they are trying to solve, the challenges they face, and their underlying motivations for solving them. The more detailed you can be, the better you will be able to target your ideal customers.
Understanding the challenges faced by your targeted prospects is so important to success that it should be the sole marketing focus for prospects in the awareness stage of the buyer's journey.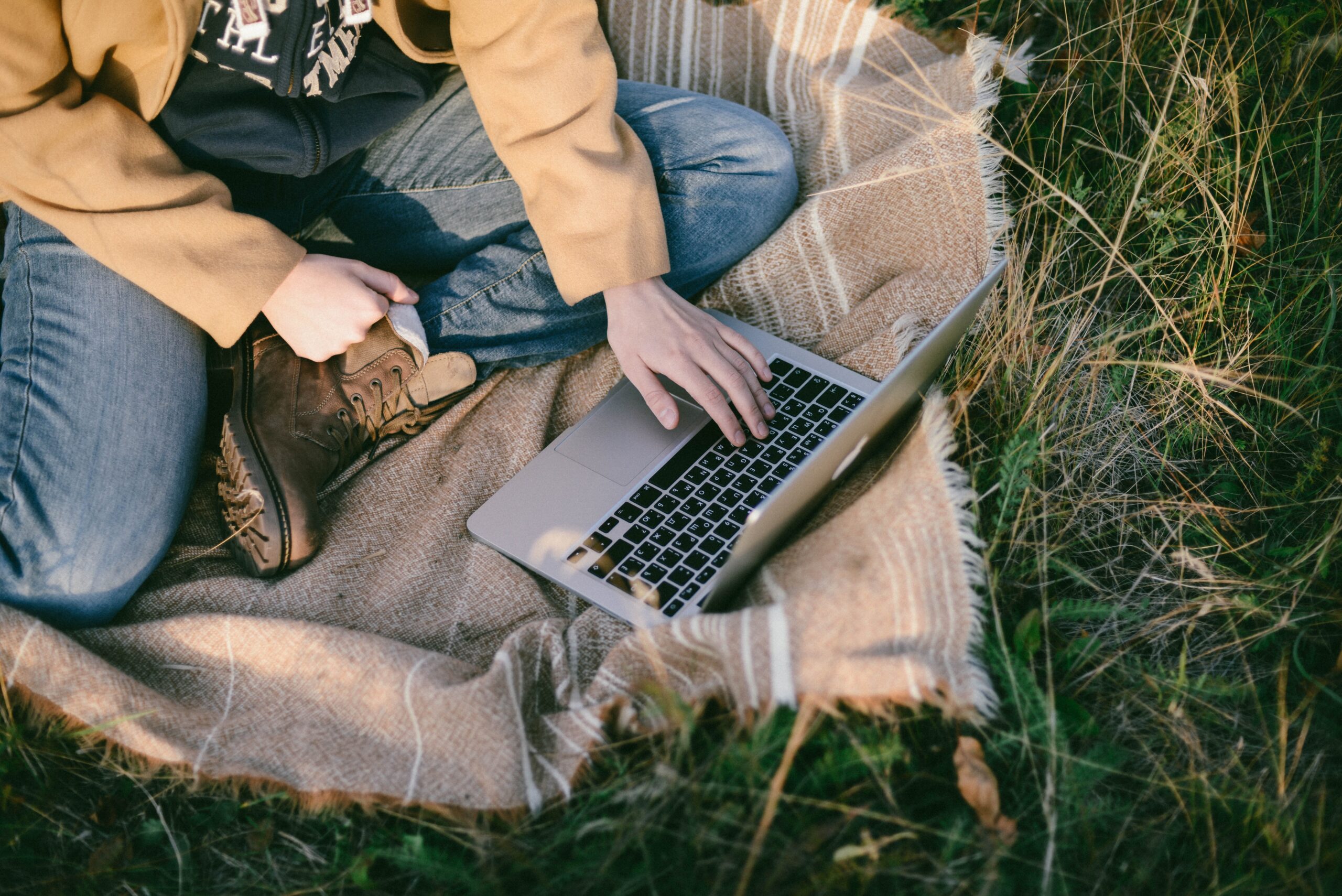 How Can You Start Building Your Own Buyer Personas?
We recommend a five-step process to build sophisticated buyer personas.
1. Choose which prospects or customers are most valuable for your business
The first step is to decide which type of customers and prospects are important to your growth and sustainability and yield the most lifetime customer value.
2. Get your team on board
Building buyer personas should be a team effort and include your sales team as well. Aligning marketing and sales goals is crucial for success. As your marketing team uses the data you've gathered to target and nurture the right leads, your sales team will then have better data to help identify and focus messaging for the highest value leads for conversion.
Decisions about your buyer personas should be a collaborative effort between marketing, sales, and leadership so that everyone agrees about the direction of your marketing campaigns.
3. Ask the right questions [open-ended questions]
To get inside the mind of your persona, you need to ask the right questions and gather the right data. These questions center around demographics, goals, challenges, research habits, and values.
Learn more about asking the right questions by reading 5 Top-Line Questions to Ask When Building Buyer Personas.
4. Talk to a diverse and well-round sample of people who fit the profile
Your information gathering should also go beyond your network. Take advantage of local trade groups, referrals, or LinkedIn channels to locate others to interview that can contribute additional input.
A diversity of voices can help ensure you don't overlook important challenges and concerns.
5. Consolidate and document your findings in a Buyer Persona Report
A reliable buyer persona report template will standardize how everyone in your organization views your targeted prospects' needs and desires.
Not sure how to get started? Here are some examples. We wanted to provide you with examples so that you can start to build your own buyer personas with confidence.
Note: We created a fake company that provides a SaaS product for chiropractors for these examples. The company "Chiro-Schedule" is not real, please don't use "as-is" for your business.

Chiro-Schedule –  A Digital Billing Platform
Buyer Persona Example 1: Owner/Chiropractor
Here we have "Chris," a Chiropractor that could benefit from scheduling and billing software that helps his office run smoothly. We have listed "Chris's" goals, challenges, behavior, interests, demographics, and story. This buyer persona will all help this SaaS company understand who its ideal client is.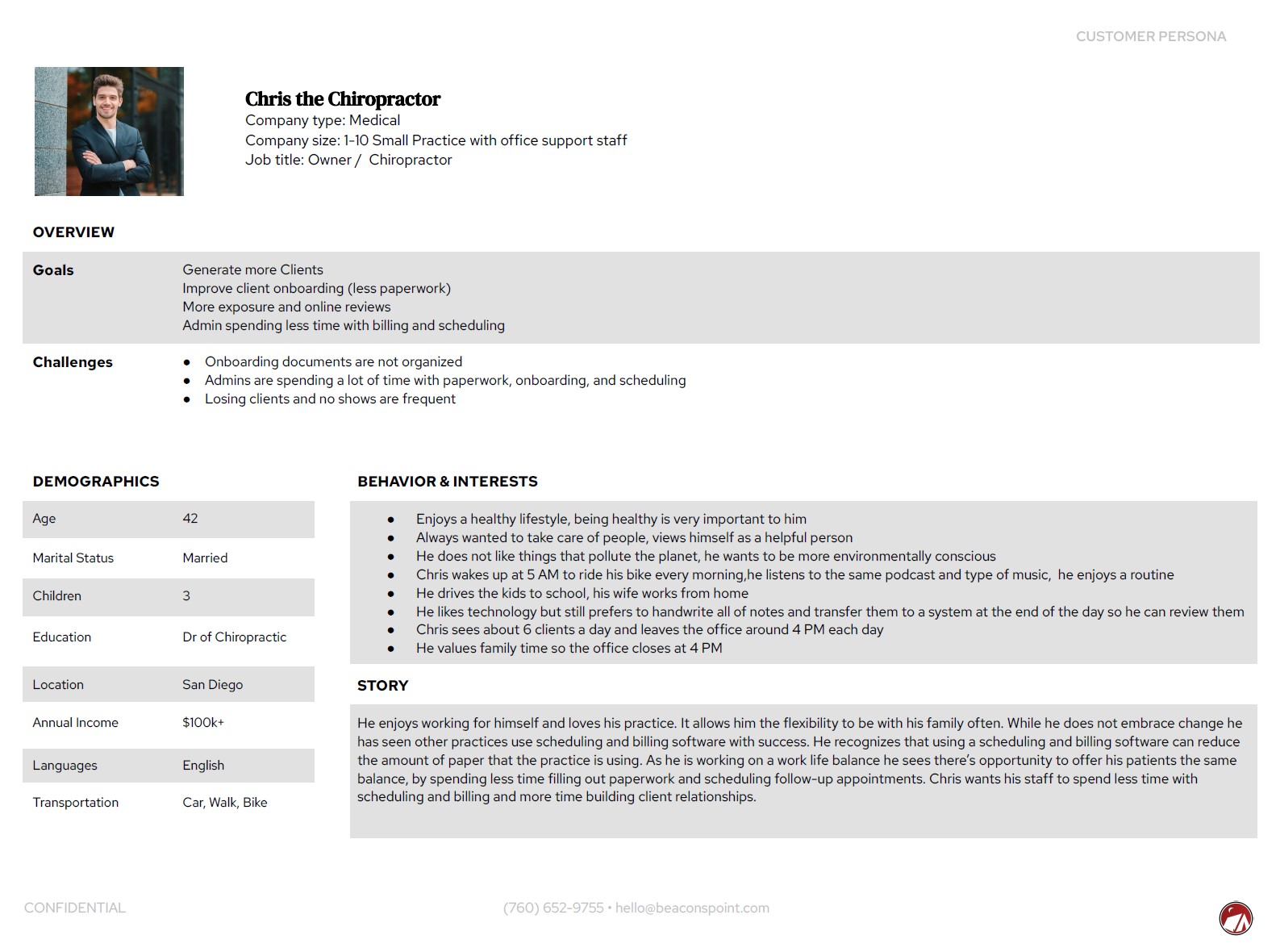 Buyer Persona Example 2: Office Manager
We create a buyer persona for "Chris's" office manager, "Olivia." "Olivia" has different goals than "Chris" as they both have different roles in the company. "Olivia" will be the person using the software more often and who will benefit greatly from using it. The SaaS company can take a look at these two personas to identify what their software can help with and who will benefit from their product.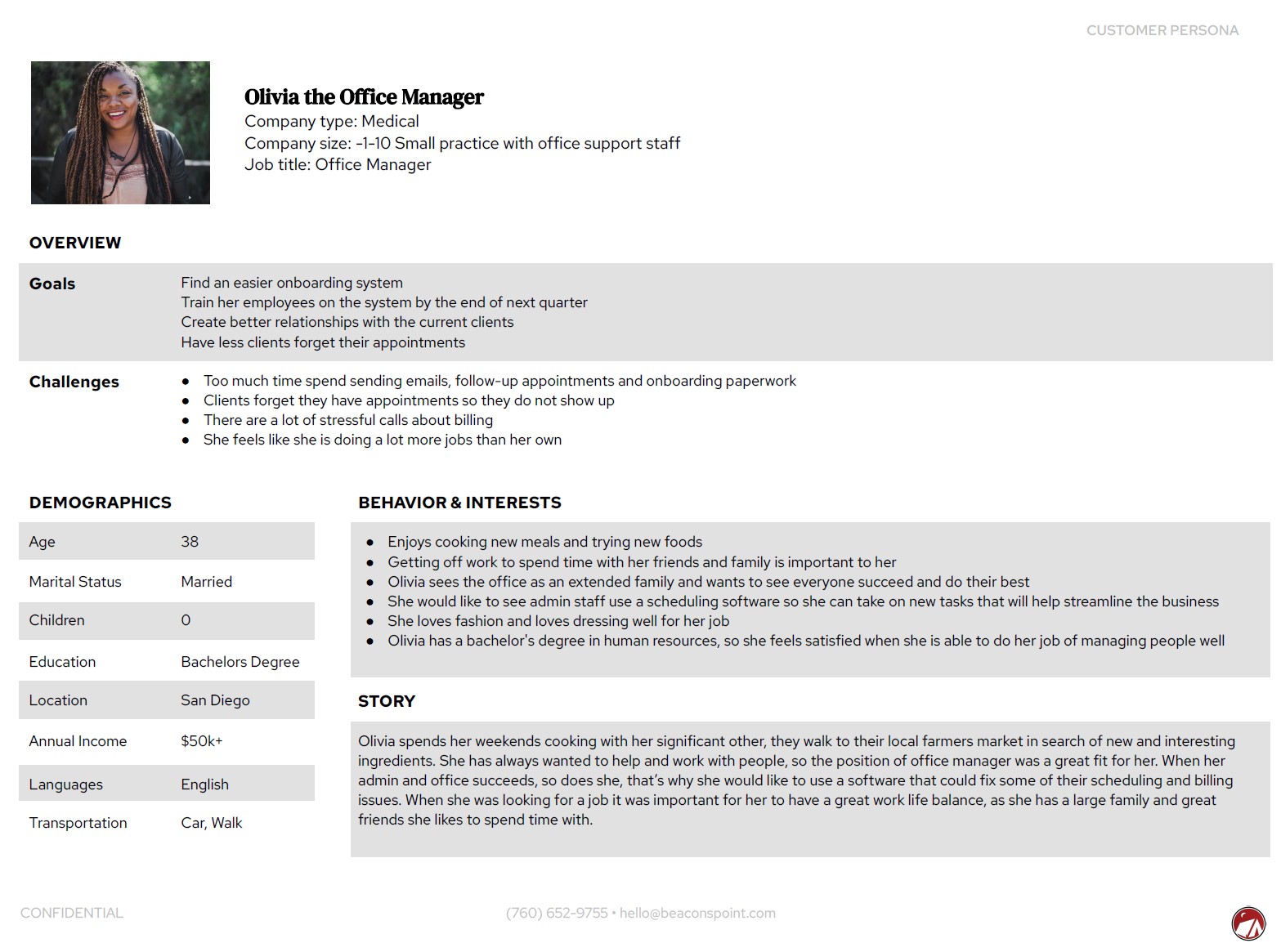 Download the Buyer Persona Resource Pack
The Beacon Point team has taken years of inbound marketing experience and created the Buyer Persona Resource Pack to make things easy for you. You get:
Buyer Persona FAQ
Buyer Persona Best Practices
Buyer Persona Examples
Buyer Persona Questionnaire Template
Persona Report Template
Persona Outreach Email Templates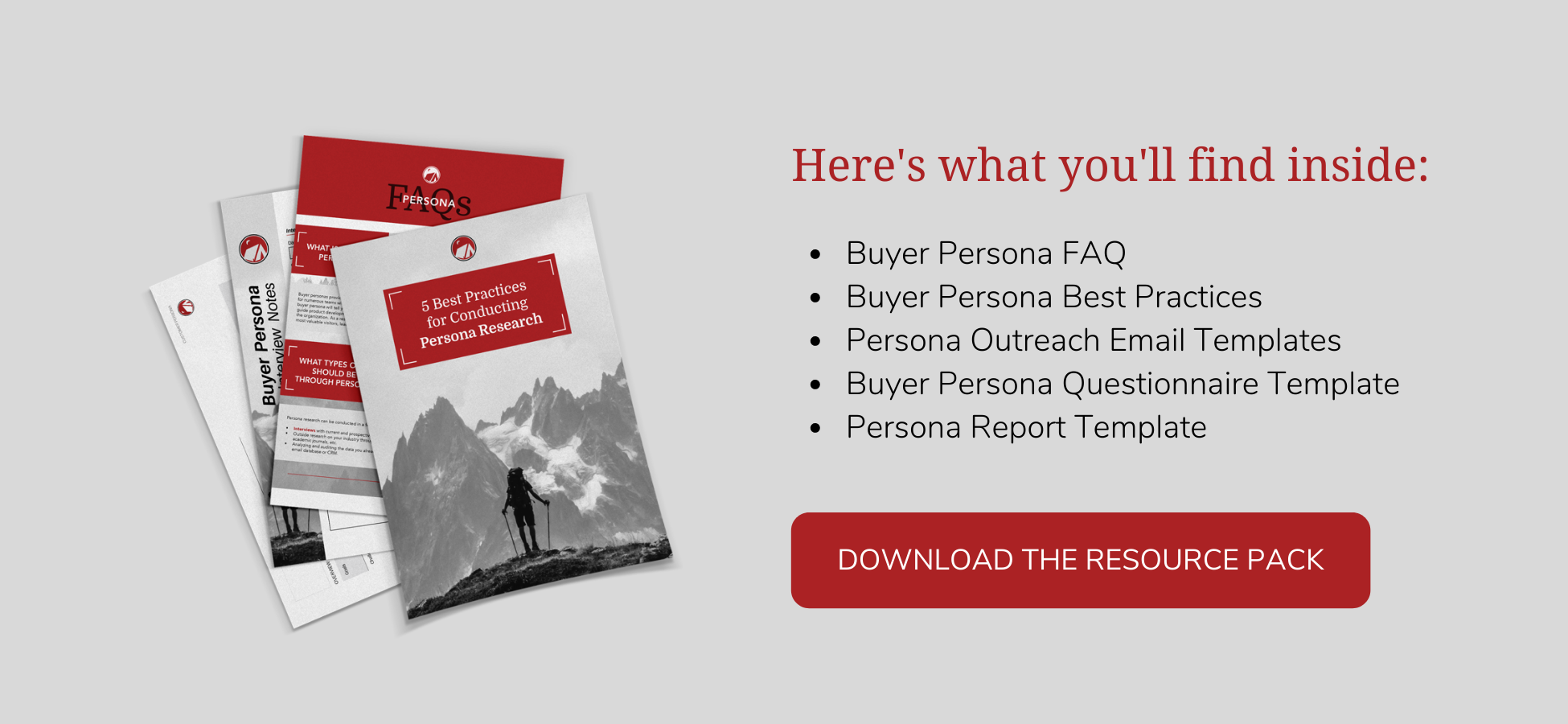 Read Next:
5 Next steps after defining your buyer personas