It doesn't take a marketing expert to understand that you need to think like your customers if you want to draw them to your business. One way that marketers achieve this is by creating buyer personas. A buyer persona is a hypothetical character archetype meant to represent the type of buyer you want to reach: perhaps "Martha the Stay-at-Home Mom," "Pete the Plumber," or "Gina the Grad Student."
How and Why you should Create a Negative Buyer Persona
Dive into Negative Buyer Personas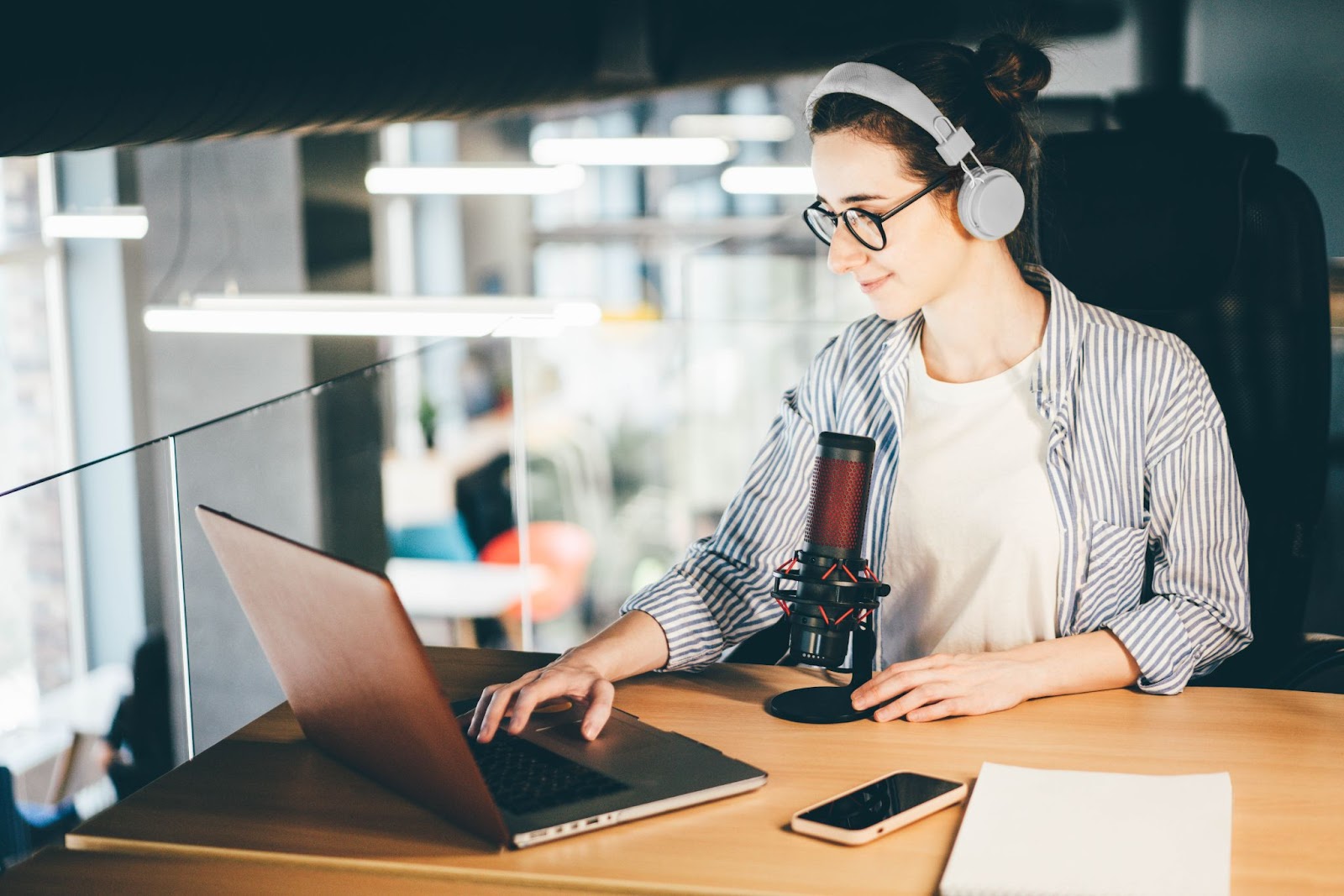 What Is a Negative Buyer Persona?
The truth is, no matter how good your business plan is, it's unlikely that your product or service will work for everyone. If you've been in business for any time, you know not every customer relationship is positive. Negative customer interactions might include potential clients who showed initial interest but never signed on or high maintenance customers who cost your business more money than you can afford.
A negative buyer persona is a hypothetical sketch of one of these less-than-ideal customers. It measures the risk of certain customers and allows your company to focus on buyers who will help you flourish. They are the opposite of buyer personas, which you should have as well.
Why Are Negative Buyer Personas Important To Your Business?
Like any other relationship in your life, you hope to work with your customers consistently, in a healthy way for both you and them. That also means recognizing when your business isn't compatible with certain customers. For this reason, it is important to establish negative buyer personas and why they benefit your inbound marketing strategy.
Saves You Precious Marketing Budget and Time
Nothing feels more frustrating than spending time attempting to win over a client only to have them decide against signing on at the last moment. Without a negative buyer persona, you may waste time or even your marketing budget on potential customers who won't actually pay off or may cause more trouble for you.
A negative buyer persona helps to narrow the focus of your marketing team. This way, everyone on the team can have a clear idea of who they want to target and who they want to avoid so that no time or money is lost on the latter.
Helps You Attract Your Favorite Type of Customers
When you aren't busy trying to generate as many leads as possible, regardless of the kind of leads those maybe, you're more able to focus on your ideal type of customer. Building negative personas and having negative customer interactions can actually help offer a clearer picture of the kind of customer you want to have. Once you've developed your negative buyer personas, you can create buyer personas with more confidence.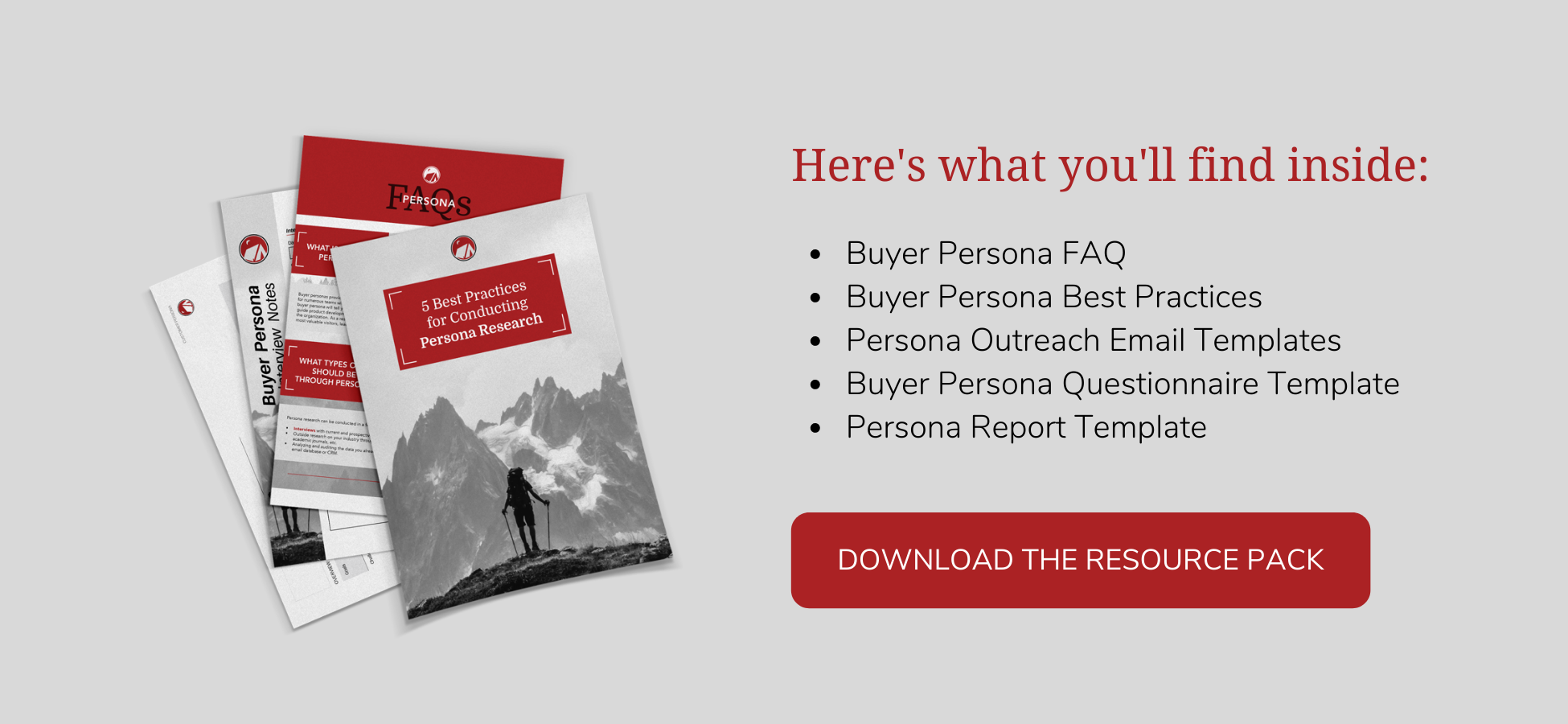 Identifying the Red Flags of a Negative Buyer Persona
Sometimes negative buyer personas are drawn from past customer experiences. While a negative customer experience or a loss of acquisition can be frustrating, it can also serve as a lesson. These experiences provide you with red flags that can inform your negative buyer personas, such as:
Hefty acquisition costs beyond what your average sale price can recover
Long discussions but little to no interest in actually making a purchase
One-time purchase with little chance of returning
Unrealistic expectations of the product, often returning the products they purchase
A location outside of your business's geographic location/service range
An income bracket that is too low for the cost of your products or services
An existing relationship with a competitor, already using their product
Students or professors simply looking for more information about the industry
Fans of your business who don't have the means to become customers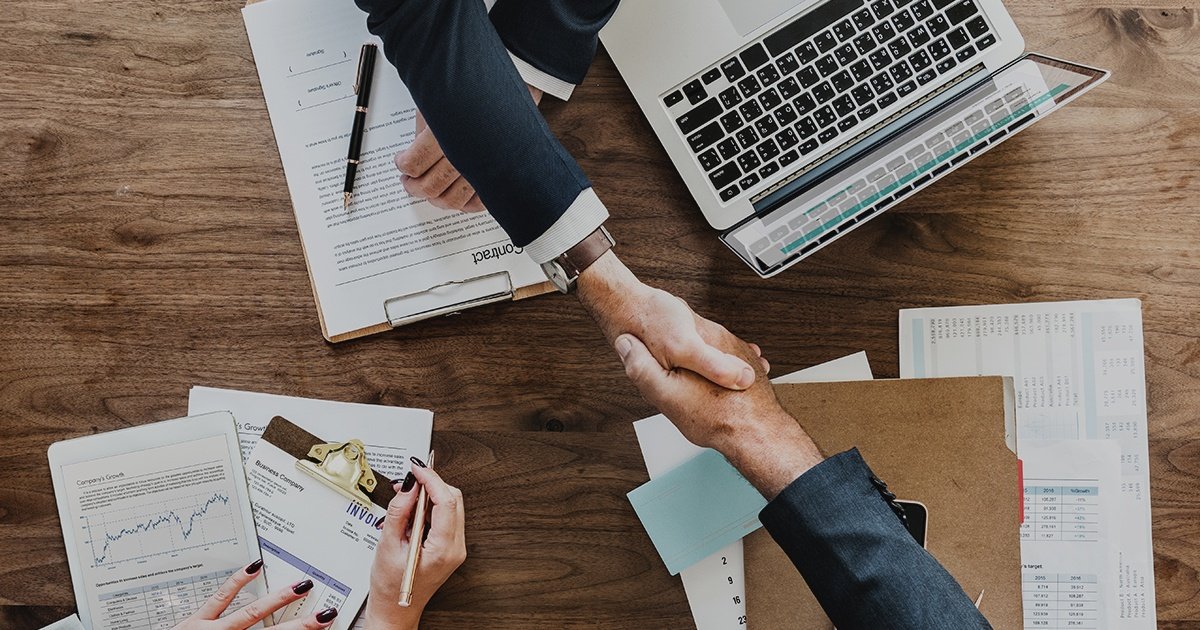 How to Build a Negative Buyer Persona
1. Get Sales and Marketing On the Same Page
An effective negative buyer persona should be the collaborative effort of both the marketing and sales team. Marketing teams come up with strategies to boost sales. Sales teams interact with customers, and they will have plenty of stories about less than ideal customer interactions. They can use this to inform the negative buyer personas that the marketing team develops. That's why it's recommended that marketing teams interview an experienced salesperson in their company before moving outside the company. A negative Buyer Persona has a negative connotation, obviously. But it is not meant to be a bad thing, you have your buyer persona that embodies your ideal client, so it's only smart to know what your non-ideal client looks like as well. Your negative buyer persona could look like the opposite of your buyer persona. Let's do an example; everyone loves examples: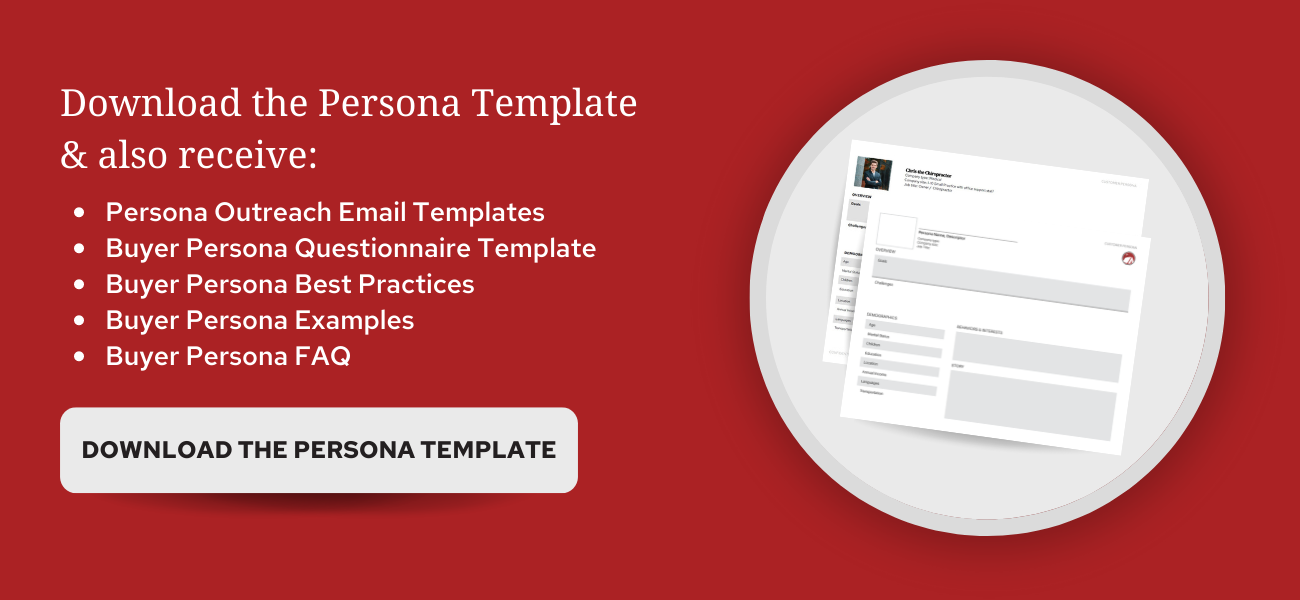 2. Talk to Past and Prospective Customers
Another group that has a unique insight into what a negative buyer looks like for your business is the customers themselves. Once you've talked to your sales team, interview past customers who stopped working with your company. You can also interview prospective customers who haven't been exposed to your company yet.
Leave the questions general and open-ended, offering the customers more opportunity to go into detail. Some questions you might ask include:
What caused you to stop using our product/service?
Did you have any specific issues when using our product/service?
What were your goals with our product/service?
How did we fall short of that expectation?
What were the biggest challenges you faced in using our product/service?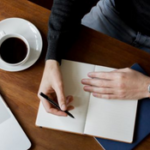 3. Document Your Negative Buyer Personas
Begin to document your negative buyer personas. Take all the information you've gathered and ask yourself a few questions in order to flesh out your negative buyer persona:
What challenges came up when working with past customers?
How much time and money did past customers take up?
What were their goals, and how did they clash with your business?
What customers were high maintenance, and in what way?
Were these past customers profitable?
Did past customers express dissatisfaction? What were their complaints?
What red flags did you notice?
From there, you can break the information into these four categories for each persona profile:
Goals – What do these customers hope to get out of your product?
Challenges – What issues might these customers be facing that would lead them to seek out a product or service to resolve them?
Behaviors – What behaviors might they exhibit that would serve as a red flag for a negative buyer?
Common Objectives – What reason would they likely give not to use or not continue to use your product or service?
It is the job of every inbound marketing team to get inside the minds of the customers so they know how to market their product and service to them effectively. Buyer personas are a great way to do this, but in order to understand customers who are a good fit, you have to understand what customers aren't a good fit. Outlining negative buyer personas is a must. Now that you have downloaded the buyer persona template, let's move on to content. Read these next couple of blogs to get started.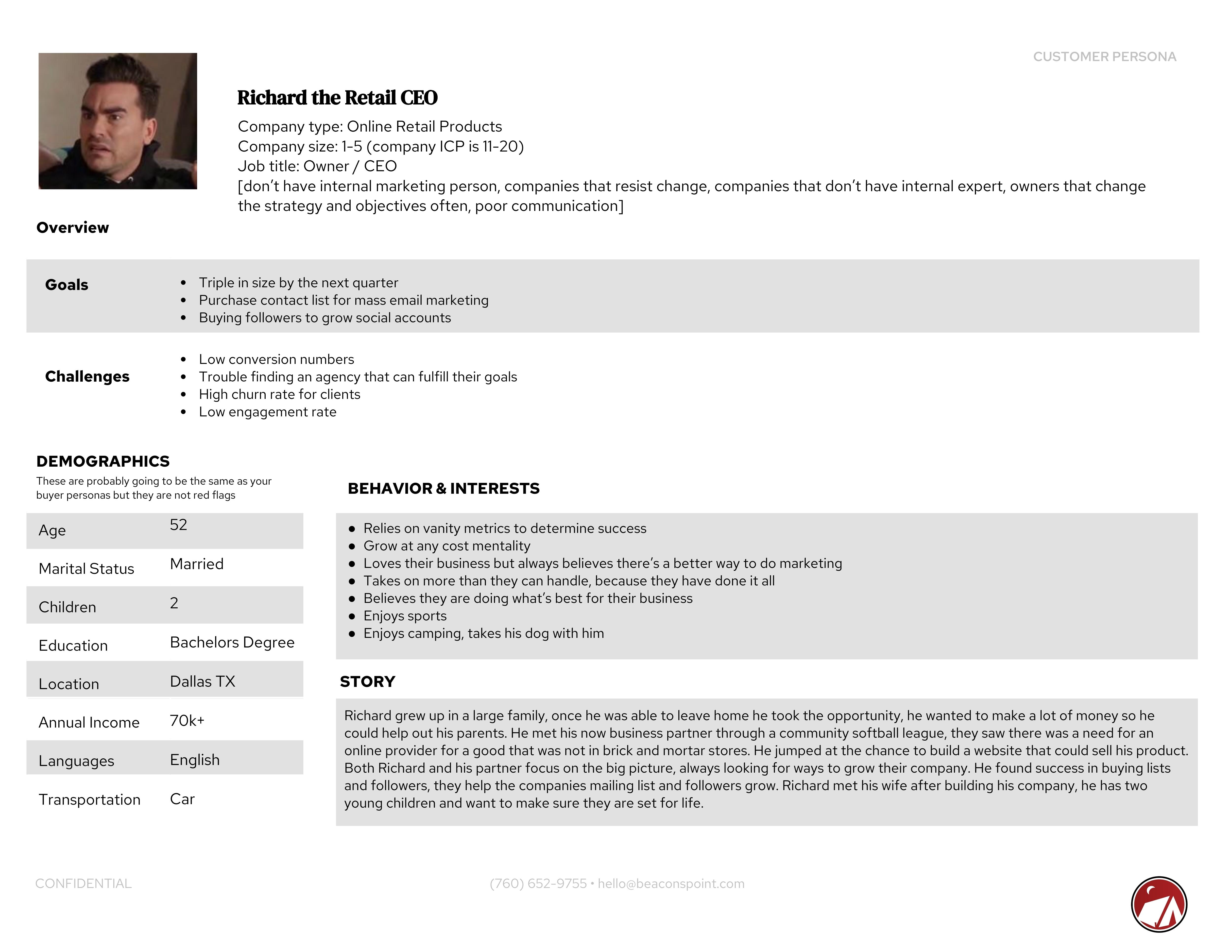 (click to enlarge & take with you)
Negative Buyer Persona Example
Negative buyer personas are similar to your buyer personas in a few ways; they can often share the same demographics, same company type, and a similar story. But where they differ may be their goals and challenges.
When crafting your negative buyer person, be sure to pay attention to which goals someone would want that you may not be able to provide. Whether they be unrealistic or not, a service you provide. A negative buyer persona is here to help you save time and money from potential clients that you may not be able to help in the way that they would like.
You should create your buyer persona before crafting a negative buyer persona. You want to know what you want before establishing what you don't want.
We created a fake company that provides online retail products for consumers for these examples.
Please don't use "as-is" for your business. David Rose is fictitious, and so is this example!
Read Next:
The Role Quality Content Plays in SEO
The importance of maintaining brand voice 
How content can bolster your sales enablement