Thanks to HubSpot, buyer personas have become synonymous with inbound and content marketing. Few companies, however, actually spend the time to research, develop, and document their personas.
Even without global pandemics, the B2B landscape is constantly changing and evolving. Companies who consistently document, review, and update their buyer personas see the most success.
According to Cintell, 47 percent of companies who exceeded sales and revenue goals consistently maintain their personas.
Most companies hold internal marketing meetings to discuss who their buyer personas are without actually talking to their customers. Then, the sales team will have a meeting to discuss their Ideal Customer Profile (ICP), without talking to the marketing team or the customer.
Do you see the problem yet?
In this article, we will examine how to build a buyer persona for your B2B companies, give some best practices and tips, and explain what you should do with your documented buyer persons.
Buyer Persona vs Ideal Client Profile (ICP)
The age-old battle between sales and marketing. Sales often claim the leads they receive from marketing are bad. Marketing responds by saying they're just not working them correctly.
Let's start with the ICP. When a sales team builds out its target for its outreach, they try to identify their Ideal Customer Profile. When they do this, they refer to accounts or companies. Typical ICP identification is based on the target industry, company size, location, and revenue. From there, they pick up the phone and call.
Traditionally, the marketing team then takes that information and digs deeper to create buyer personas.
A buyer persona is a semi-fictional representation of your customer — who they are, how they think, habits, motivations, challenges, and characteristics. Your persona should be more personal (hence the term persona). You want to discover their challenges and how they're evaluated in their role. When you create content, you think of this persona. We even give our personas names like "Andy the Accountant," so we can really think about that persona when creating content.
We talk about this in-depth in our recorded webinar, How to develop your buyer personas.
For example, if you are a B2B enterprise accounting software provider and through buyer persona research you find that accounting teams have the challenge of using software that is not only outdated but also does not integrate with new platforms used by the company. On top of that, they need their IT team to approve all new software decisions. In this situation, you have two buyer personas.
Here are our B2B buyer persona examples:
Andy the Accountant has an outdated system that needs to be updated to increase efficiency and accuracy.
Ivy the IT Director: is in charge of approving software requests based on Andy's recommendations.
Both of these personas have different challenges, motivations, and information to consider while making a decision.
To recap, the relationship should work as follows:
Marketing creates content to provide value in the eyes of your buyer personas.
The sales team uses marketing's valuable content in their sales process to better communicate and serve prospective customers at every stage of their buyer's journey.
6 Things You Need to Know About Your B2B Buyer Personas
The best way to find information about your buyer persona is by interviewing current customers. But before you pick up the phone, make sure you have a plan.
We like to create a standard set of questions that are relevant to your business and your customers to help identify trends and consistencies across all of the interviews we conduct. Some of those questions include:
What are your biggest challenges?
What is at stake if you don't solve these challenges?
How do you go about researching to solve problems?
Who do you report to? How big is your team?
What social media channels do you use for work? For personal use?
What responsibilities do you have at work? Outside of work?
The goal with these is to discover what makes them tick and how to provide them with the most value throughout their buyer's journey.
We recommend creating a buyer persona questionnaire template to help stay on track and take notes during the interview.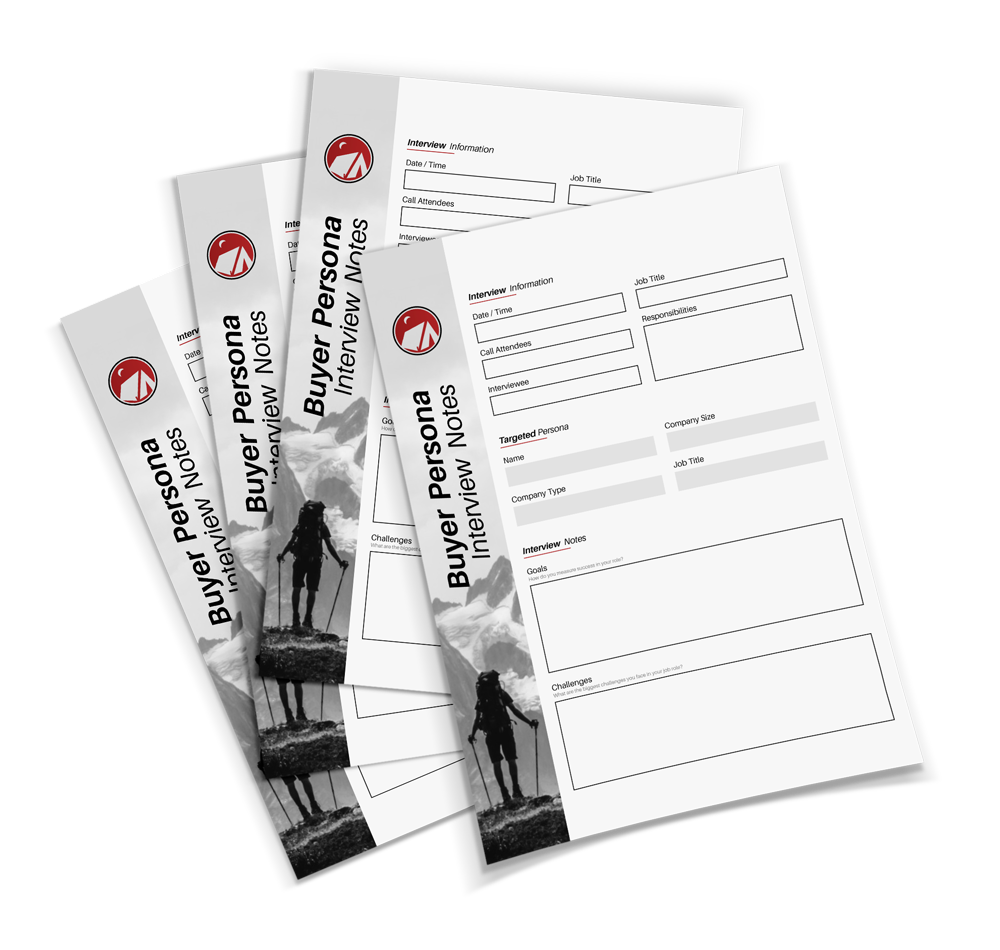 Get Your Persona Questionnaire
Template Here
The buyer persona questionnaire will make documenting your personas that much easier.
Marketing and Sales Alignment
As described above, friction sometimes exists between marketing and sales. The buyer persona process can be used to bridge this divide between the two teams. 
We recommend working with your sales team to learn more about their ICP. You can use this information to help identify which current customers you can interview to create your buyer personas. By including sales in the buyer persona process, both teams can work together to target the right leads to grow the business.
The best sales teams will want quality content to use in their sales outreach. This content will allow them to target a specific persona and have a greater impact. This will make you, the marketer, look like a hero in the eyes of the sales team.
When your marketing and sales teams are aligned, everyone wins. Sales close more deals, and they thank you for the great leads.
How Often Should You Update Your Buyer Personas?
We get asked this question often. There is no simple one-size-fits-all answer, but the best practice is to review and edit your buyer personas every 6-12 months. A lot can change in your industry due to a variety of factors. Again, you'll need to look at your current situation. Conduct a SWOT analysis on the state of your industry, and if new threats or opportunities have arisen, it's time to conduct new research.
Thankfully, if you have a persona template already in place, all you'll need to do is call up some current customers and ask what's changed.
At Beacons Point, before we begin creating content for a new campaign, we review the personas with our clients to make sure they are still relevant and accurate.
Conclusion
Creating effective B2B buyer personas doesn't happen overnight so don't think you need them done by the end of the day. Use your internal resources to identify 6-10 people who may be a good fit for a persona interview, schedule the interviews, and review the data. You will start to identify trends pertaining to common challenges and habits. However, doing this work upfront makes it so much clearer when it comes time to create high-value content for your B2B customers.